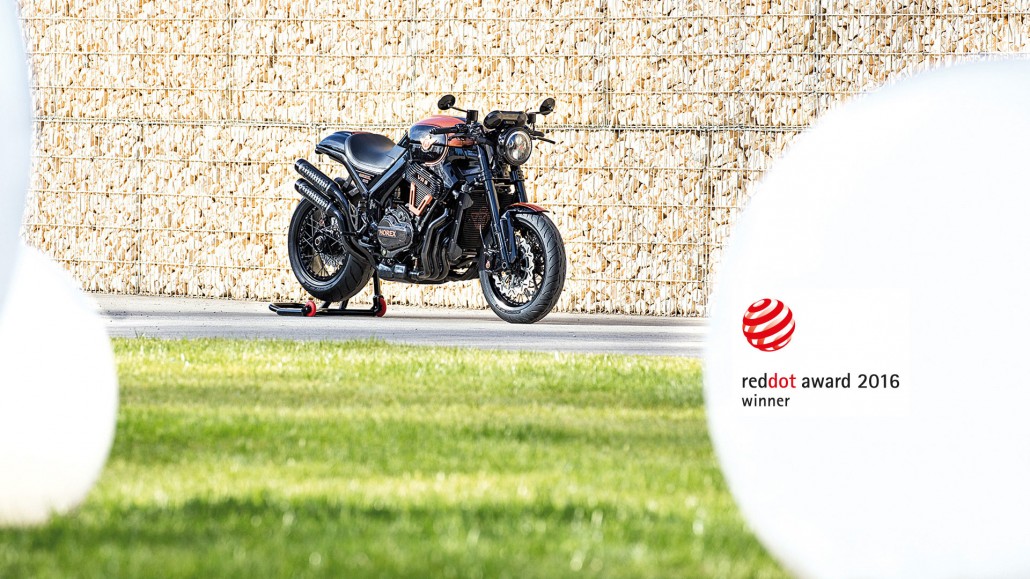 Limited special edition
With the new HOREX VR6 Black Edition, the traditional German brand HOREX presents their second series. As well as the sister model Silver Edition, this also on 33 units limited special edition marks the launch of a new model.
Similar to the Silver Edition, the Black Edition defines what is technically feasible. The Black Edition is however a pure single seater unlike the sister model Silver Edition and can thus be ordered with a Café Racer steering configuration for maximum sportiness.
The sales phase for the HOREX VR6 Black Edition has now ended. We would like to thank the many interested parties who contacted us.
For further questions regarding the HOREX VR6 Silver Edition, please contact our HOREX team.
Details
&

Highlights

 

Engine type: VR6
Displacement: 1218 cm³
Power: 167,7 hp (125 kW)
Torque: 128 Nm
Gearbox: 6-gear
Weight: 216 kg (dry weight)

Subframe: CFRP subframe structure
Steering head: CFRP steering head frame
Exhaust: Performance stainless steel exhaust system
Suspension: Öhlins Upside-down front fork (Ø 43 mm),
Öhlins TTX36 GP mono shock
Brakes: High-Performance Brembo 4 piston brake system
(front: 484 CNC P4 | rear: P2.34 CNC)
Wheels: Aluminium spoke rims | Kineo HOREX Edition
ABS-System: Standard
Display: High-End LED Display
Lights: LED head lamp, rear lights and indicators
Seat: Genuine saddle leather and CFRP pillion cover
The new HOREX VR6 Black Edition wins the Red Dot Award for exceptional product design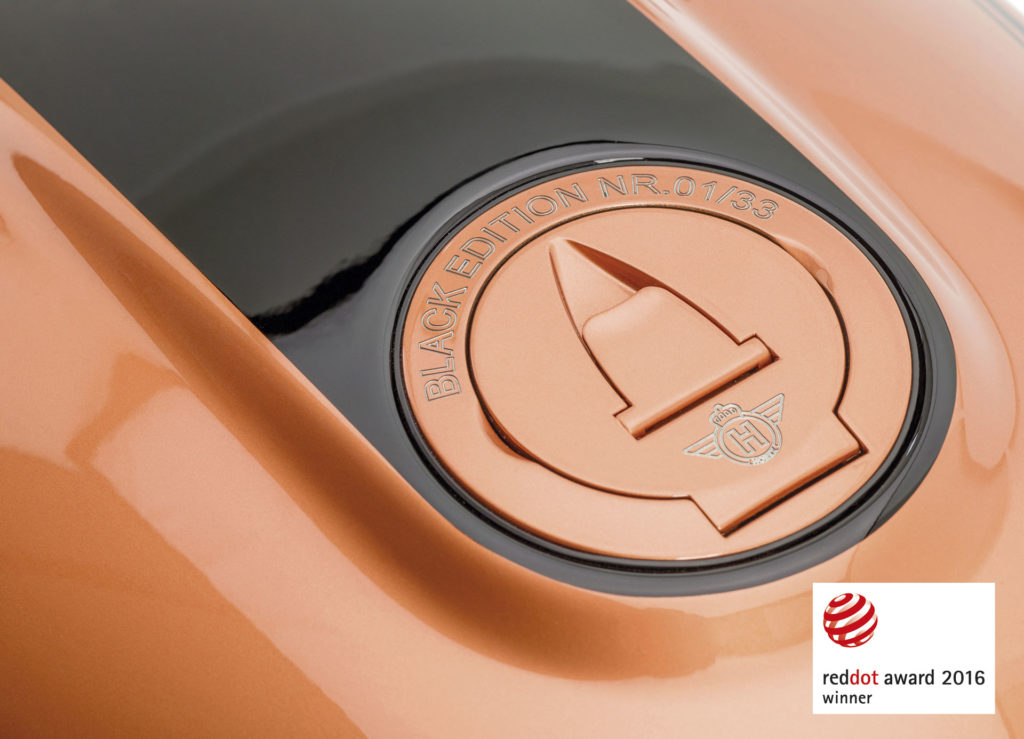 The new HOREX VR6 Black Edition was awarded with the Red Dot, the international distinction for exceptional product design. Participants from 57 nations submitted a total of 5,214 products and innovations for the Red Dot Award: Product Design 2016. Only products which set themselves apart considerably through their excellent design receive the sought-after quality seal from the international Red Dot jury.
To represent its new HOREX VR6 models, the company sent the exclusive HOREX VR6 Black Edition to Essen to participate in the Red Dot Design Award 2016. The exceptional motorcycle with the carbon-fibre steering head frame and VR6 cylinder faced stiff competition from more than 5,200 products in more than 600 categories.
With 41 experts from all around the world, who are chosen according to strict rules, the Red DotAward : Product Design guarantees a very high judging competence: Only freelance designers, design professors and specialised journalists – but not designers employed at companies potentially participating – are appointed to the jury.
The independent expert panel assesses each entry strictly and fairly, live and on site, according to criteria such as degree of innovation, formal quality, functionality and ecological compatibility. Professor Dr. Peter Zec, founder and president of the Red Dot Award: "With their performances, the Red Dot winners not only demonstrated an extraordinary design quality, but they also showed that design is an integral part of innovative product solutions."
The Red Dot is an even greater honour for 3C-Carbon Group's young and ambitious HOREX design and development team as the vehicle and component designs were almost 100% developed in-house. The prize is also a distinction for the new HOREX VR6 models: a combination of classic design from historical HOREX motorcycles using innovative technologies (including ground-breaking lightweight carbon fibre structures and high-tech components like LED headlamps), excellent motors and a mix of
materials of unparalleled quality. In addition to validation for past work, the Red Dot Award also serves as encouragement for future HOREX models.
More about the Red Dot Design Award: The Red Dot Award is organised by the Design Zentrum Nordrhein-Westfalen. With more than 17,000 submissions in 2015 alone, it is one of the largest competitions of its kind in the world. It was in 1955 that a jury convened for the first time to assess the best designs of the day. Since then the sought-after "Red Dot" is the revered international seal of outstanding design quality.